Laff



Biologic Information:

Human (Clone)

Height:

1.83 Meters

Homeworld:

Hair color:

Black

Eye color:

Brown

Born:

32 BBY

Died:

21 BBY

Era(s):

Rise of the Empire Era

Affiliation:

Grand Army of the Republic, 501st Legion Midnight Ops.
"Ah, Laff, stop jokin' around."
- Fi after Laff told a joke
Laff was Fi's best friend and hatchmate. He was prone to joke many times which lightened everyone's spirits when on a dangerous mission.He was part of the Midnight Ops. He and Fi were stationed on a Republic Garrison when he was killed by BX-Series Commando Droids. Fi still mourns the loss of Laff his best friend.
Equipment
Edit
Laff used a
DC-15S blaster
, and wore Phase I clone trooper armor. Laff's unique helmet had a smiling face on it.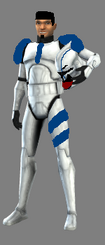 Appearance
Edit
Star Wars: A Soldier's Life: Book I: Black and White (first appearance)