Caitlin Ghasf

Homeworld:

?

Born:

?

Species:

Human

Gender:

Female

Height:

?

Hair color:

Black

Eye color:

Black

Era(s):

Rise of the Empire

Affiliation:

Jedi Order
Galactic Republic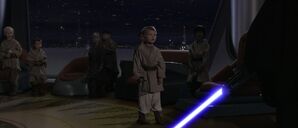 Caitlin Ghasf was a female Human Jedi youngling who lived during the Rise of the Empire Era and the final years of the Republic.
Biography
Edit
Caitlin was with her youngling training group when the Jedi Temple fell under attack by the 501st Legion of GAR on the orders of Supreme Chancellor Palpatine. Unsure of what to do as chaos ensued within the Temple grounds, Caitlin and her group hid in the Jedi Council chambers until Anakin Skywalker showed up.
The younglings approached Skywalker for guidance. Unbeknownst to them, Skywalker had turned to the Dark Side, adopting the title 'Darth Vader'. In reply, Vader simply activated his lightsaber before beginning his massacre of the children. Caitlin and her peers tried to defend themselves using what training they had been taught but were no match for the Sith Lord. Caitlin, along with the rest of her group, was mercilessly slaughtered.
Appearances
Edit
Star Wars: Episode III:

Revenge of the Sith (First appearance)