CT-4678

"Shad"




Homeworld

Kamino

Born

32 BBY, Kamino

Died

10 BBY, Nar Shadaa

Species

Human (clone)

Gender

Male

Height

1.83 Meters

Hair color

Black

Eye color

Brown

Era(s)

Rise of the Empire

Affiliation

Galactic Republic

Grand Army of the Republic

Galactic Empire
CT-4678
, nicknamed "
Shad
", was a clone trooper of the famed
30th Assault Legion
during the threat known as the Clone Wars. An active member of the 30th's Fox Squad, Shad accompanied
senior clone commander
CC-1322
and Jedi Knights
Callista Konshi
and
Jacius Railus
through various battles throughout the war. He was close friends with troopers
Jaing
and
Flade
, the later of which he was practically inseparable from. Shad trained on Kamino with his squad before the war, and earned a reputation as a cold and humorless clone. His skills with a sniper earned his name, which was short for "Shadow". His prowess in battle made him a valuable member of the 30th.
Biography
Edit
Personality and traits
Edit
Equipment
Edit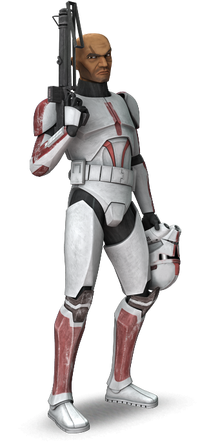 Skills and abilities
Edit