CT-0423

"Flade"




Homeworld

Kamino

Born

32 BBY, Kamino

Died

10 BBY, Nar Shadaa

Species

Human (clone)

Gender

Male

Height

1.83 Meters

Hair color

Brown

Eye color

Blue

Era(s)

Rise of the Empire

Affilitaion

Galactic Republic

Grand Army of the Republic

Galactic Empire
CT-0423
, nicknamed "
Flade
", was a clone trooper that served in the famed
30th Assault Legion
, under the command of senior clone commander
CC-1322
, named "Trigg". Flade was part of the 30th's Havoc Company, and was an active member of its renowned Fox Squad, fighting in many battles in the threat known as the Clone Wars. Flade earned his nickname from his partiality to demolitions, and was thus given his name by his closest brother
CT-4678
because of his liking to flames. Of all the troopers of the 30th, Flade was the most humorous and the most comedic. As much as the other troopers hated his humor, they would not have survived the Clone War's insanity without it.
Biography
Edit
Personality and traits
Edit
Equipment
Edit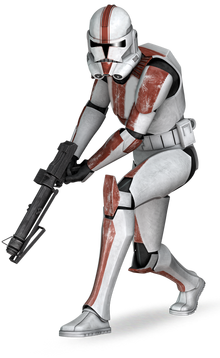 Skills and abilities
Edit